The Repertory  L
---

 LAURITSEN, John
Book:
Religious Roots of the Taboo on Homosexuality
---

 Leaving Islam
Apostates Speak Out
WARRAQ, Ibn
Keywords: Islam
Prometheus Books, Amherst, NY, USA
2003
From the back cover:
Unlike abandoning one's religion in the West, leaving Islam (apostasy) is a life-threatening act. Perhaps renowned scholar of Islamic Studies Bernard Lewis said it best:
"Apostasy was a crime as well as a sin, and the apostate was damned both in this world and the next. His crime was treason—desertion and betrayal of the community to which he belonged, and to which he owned loyalty; his life and property were forfeit. He was a dead limb to be excised."
And yet, the ex-Muslims who are here represented felt it was their duty to speak up against their former faith, to tell the truth about the fastest growing religion in the world.
Defying the death penalty applicable to all apostates in Islam, these former Muslims, from all parts of the Islamic world, recount how they slowly came to realize that the religion into which they were born was not only a sham but a dangerous cult. These memoirs and journals of personal journeys to enlightenment and intellectual freedom make for moving reading and are a courageous signal to other ex-Muslisms to come out of the closet.
---

 Letter to a Christian Nation
HARRIS, Sam
Keywords: atheism Christianity
Knopf
2006
---

 The Life and Times of Gora
LINDLEY, Mark
Keywords: atheism history
Popular Prakashan, Mumbai
2009
Foreword by Mridula Mukherjee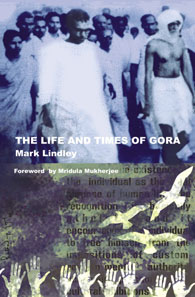 "It seems to me notable that Gora's 'positive atheism' went far beyond rejecting all the superstitious aspects of religion. He and Saraswathi, even though they had children of their own to bring up, embraced 'propertylessness' in 1940 in order to dedicate themselves to broader humanitarian service. This was, of course, one of the main reasons why Gandhi admired him in spite of their differences. I find it perfectly sensible of Gandhi to have admired (or not admired) people for reasons of that kind rather than for their explicit philosophical views. But at the same time I admire Gora's philosophical enterprise. How often is theism nowadays as truthful as his atheism was?"

p. 96
See also Gora.
---

 LINDLEY, Mark
Book:
---

 Live from Golgotha
The gospel according to Gore Vidal
VIDAL, Gore
Keywords: Christianity
Penguin
1992
A refreshingly blasphemous novel about the crucifixion as a modern media event, with various networks competing for television rights to the big event on the hill. Requires a healthy disrespect for Christian propriety as well as suspension of the laws of space and time...
---