About the Living Without Religion Site
The small atheist website "Living Without Religion" has existed since 1998. Originally it bore the title "Infidèle", adopting its current title in December 1999.
2012-02-10
---
---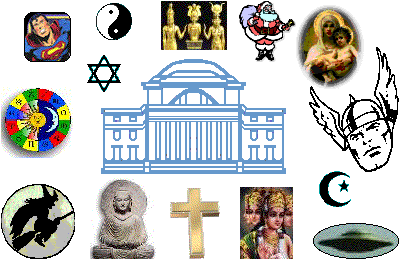 Museum of Curious Obsolete Belief Systems
Astounding superstitions of our ancestors
(and a few of our contemporaries)
---
A tiny little site with a very big task: to denounce the vacuity of religious beliefs.
The site "Living Without Religion" was started in 1998. At first it bore the title "Infidèle", adopting its current title in December of 1999. This site is mostly the effort of a single individual, but enriched by contributions from a number of colleagues and friends.
---
Updates are done irregularly, depending on the webmaster's availability. He attempts to keep the Visitors' Comments. However, the section In the News is no longer maintained. You may nevertheless consult the News Archive.
---
---
This site is principally the work of its founder and webmaster, David Rand. Except for several signed texts appearing in the Repertory, the Visitors' Comments and of course any quoted material (from books, newspapers, etc.), I am the author of the web site's content. In particular, I have prepared the FAQ and the statement of Basic Principles. In the Visitors' Comments section, I often add my comments to those of visitors.
This web site is based in Montréal, Québec, Canada, where I live. Because of the constraints of work and other activities, I have limited time to devote to maintaining and developing this site, which explains why it remains so small after so many years.
---
---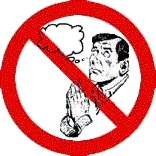 Nothing fails like prayer
---
You may of course send your remarks to the Visitors' Comments section, whose purpose is to allow visiters to express briefly their reactions to material published on the site. Or perhaps you have a hyperlink to suggest, or you wish to indicate an error on the site that should be corrected. Or you may to let the webmaster know about an interesting news item or a book of interest to atheists and other non-believers. All such information is much appreciated.
---
Your participation is requested!
Are you an atheist? agnostic? free-thinker? etc. Have you written an original article? A book summary or review? The site "Living Without Religion" is interested in contributions of new writing. If the subject of your writing is relevant to atheism and the critique of religion, and if your approach is generally compatible with the Basic Principles of this site, then please consider writing to the webmaster with a description of your article, summary or review.
Merci !
---
Here are some suggested topics for articles which this site would consider publishing.
History of atheism and freethought
History of the major monotheisms: Judaism, Christianity, Islam
Comparison of monotheism and polytheism
The story of an individual important to the history of atheism and freethought
Secularism in a country or group of countries
The legal status of religious institutions in a country or group of countries
A study of some aspect of "divine" scripture
A personal experience with religion or a religious group
Religious and non-religious ethics and morals
Christian and nordic mythologies and Naziism
Religion and atheism in the Soviet Union

...

etc.

...
---